Port Line
Your way to perfection.
matched to highest surgical procedures
ergonomically formed handle
low weight
comfortable and precise working
easy allocation through colour coded handles
wide range of different types, lengths and wides
easy cleaning
also available with High-Tec- black solution
The area and the technology for surgery in the field of minimally invasive surgery has been improved and refined in the last years. At this point ASANUS Medizintechnik GmbH offers a wide range of instruments for this area which are matched to highest surgical procedures.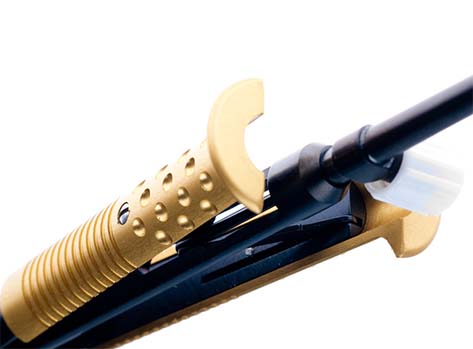 Due to their ergonomic design and high-precise workmanship these instruments distinguish themselves by comfortable and safe working. Their low weight enables the surgeon a fatigue-free and easy working, also during longer surgeries.
An optimal and immediately visible type classification in scissors, needle holders, clamps and dissectors is given by different colour coded handles. Additionally a special "Anti-Slip-Grip-Part" at the handle protects from slipping during application. In addition the installed Luer-Lock rinse connection offers an optimal and easy cleaning of the instruments. The materials of this product range are selected very carefully and coordinated very finely with production.
Through the Port Line "Black Edition" ASANUS Medizintechnik GmbH expands its range of products of this instruments for the field of minimally invasive surgery. The special, black High-Tec-melting distinguishes itself particularly by its high wear resistance in function and life-time. Furthermore the instruments are stainless and acid-resistant and free of chrome allergies which serves especially to the health protection.
By appropriate using and cleaning we give a 5- year guarantee.